The reality about boston dynamics robot video and what is the true story about that robot, You can find boston dynamics robot and it's video and also the commentary of Brightery specialist about that in this post.
The Reality about Boston dynamics robot video
Lately the social media made a huge booming with a viral video of a robot from a company called boston dynamics standing and acting like human beings.
The video was extremely shocking for such technology and level of creating a interactive robot, My robot couldn't get me my coffee without dropping it on the floor every-time he tries to. but this robot was looking and acting so real!
boston dynamics video Content
The video is detailing different moments of robot training life. They Throw a box right to it and it's catches it and Throw it back to the person throw the box in the first place.
In another shot, The other guy comes in and fight the robot while it's doing the process of catching and throwing the box. And that's weird.
The robot is standing on boxes while throwing the box to the guy, And the other one attacks it while this process too!
Well, The entire video is talking about the same topic and the same type of training, They're attacking the robot, the robot defending it self and throwing the box again.. And again.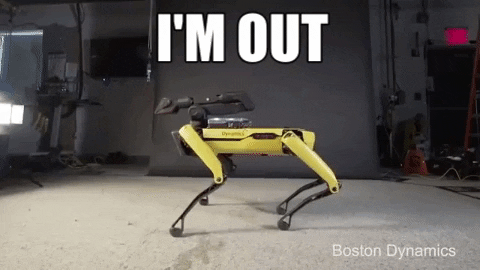 The Truth behind boston dynamics robot video
The truth is, boston dynamics robot video and boston dynamics robot is all been faked! they faked the robot, The content and everything.
The video was gone viral was completely designed in Computer-generated imagery (CGI) technology and if you don't know what is CGI, you can learn more about it when you watch Avengers: Endgame.
By the way, There's a post we've mentioned the same movie in you can read too:
Let's say it was a great marketing idea from boston dynamics to introduce this video and the robot in the video -which is not a robot-, Everyone now is knowing the company, It's services and more.